Latest News
Running on Solid Ground
Neos heads into 2015 in a perfect position to add major value to the hospitality and telco sectors.
FutureProof Technology in The Historic Heart of Lebanon
Neos equips residents with IPTV STBs in the Beirut Central District - via the Solidere Project

At the heart of Lebanon's capital, Beirut Central District (BCD) is an area thousands of years old, traditionally a focus of business, finance, culture and leisure. Its reconstruction has constituted one of the most ambitious contemporary urban developments in the region. Solidere, The Lebanese Company for the Development and Reconstruction of Beirut Central District s.a.l., was incorporated as a Lebanese joint-stock company on May 5, 1994.
Solidere BBN offers BCD residents, businesses and corporations services over a privately built "Fibre to the Building" (FTTB) network. These services include broadband Internet, IPTV, VPN, and other services that require high and reliable bandwidth.
Solidere was the first area in Lebanon to have a fibre optic backbone network. As a matter of fact, the original IPTV network installed five years ago was the first of its kind. The IPTV platform was originally designed and built by a leading global IT and communications company. TV signals are received via satellite at a single centralised head end, and distributed via the IP network locally. Over the past 4 years, BBN however faced several problems with the existing IPTV platform, and it was time to change for the better. This is where Neos came into play. We do all kinds of services over our network, but IPTV is one of the main ones.
A round three thousand people a reliving in this special zone, and this is expected to grow to about five thousand in the next three years. Currently, among them, there are about 500 active IPTV customers, and they are gradually being transitioned to the Neos system. All new arrivals are being equipped with the Neos system, and little by little, the users of the previous system are swapping over.
Saifi Suites Adopt NEOS Technology
Customised turnkey solution for streaming IP-based entertainment
The Art Of Living In Downtown Beirut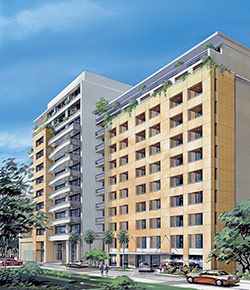 Only 10 minutes away from Beirut International Airport (around 7 km), Saifi Suites is a distinctive hotel in the heart of posh downtown Beirut. From this prestigious location in the centre of city, Saifi Suites the ideal place to explore all that Beirut has to offer from cafes, restaurants and high-end shopping in downtown to the vibrant nightlife in Gemmayze and the capital's major commercial centres. Its location is also a convenient starting point to discover the rest of Lebanon. The ambiance at this Four Star hotel is one of elegance and trend-setting style. Saifi Suites is a unique experience that bridges different worlds and embodies a luxurious lifestyle that is modern, inspiring and innovative. Here, the art of living is felt in every detail, from the signature character right down to the lobby with its cutting-edge design and the spacious rooms and suites. The hotel's Society Bistro and Wine Lounge have chic allure, making them a destination in and of themselves. See, feel and live the Saifi Suites experience. It has become "the" destination in the region's most enchanting city.
A Custom Turnkey solution
As guests today expect High Definition TV – and lots of channels – as a strict minimum, Saifi Suites settled upon NEOS as the key contractor to establish a state of the art in room entertainment service for guests. This turnkey solution covers everything from the Satellite Dish Antennas to Middleware Servers, IPTV Streamer, in-room STB, TV integration and PMS interface. In this installation, NEOS will be installing its latest interactive TV solution, and on top of it, NEOS will be installing its new IPTV Head-End for streaming around 120 channels (encrypted and Free to Air) in collaboration with the biggest TV channel providers in the area, giving the guest the possibility of Recording/Time-shifting TV channels.
NEOS CEO, Dr Hayssam Serhan, says it was important for those involved in the hotel building project to have a system that would simply work... and work simply! "What gave NEOS the edge in getting this project was the ability of providing the hotel with a turnkey solution of the latest technologies in IPTV including many needed customisation at the lowest cost," says Dr Serhan.
"Again and again, NEOS is always the best in providing free customisation services to its clients, and in this project we provided Saifi Suites with new GUI and free consultancy & development for a completely customised interface to their PMS system and offered them a free study related to the best TV Channels selection for getting the highest number of streamed channels through the head-end." After a great deal of discussion, VoD was excluded from the initial project, as hotel management aims to survey customers on their preferences before leaping into this option. However the system can be easily upgraded to include a VoD option.

iPad, iPod, iPhone & Android Mobile Control
Hospitality guests are free to control the NEOS iTV interface and browse hotel services using their mobile devices.